Someone has just alerted me to the fact that a web site
(www.eczemafreeforever.com) was using one our Before & After photos on their site as a testimonial under the heading:

"Still NOT Convinced? Take a Look at the Results of some of our Customers"
The image under the testimonial attributed to John Affleck is stolen from our web site (it's an image that was provided to us by our lovely customer Sue G in Oct, 2008).
Here's a screen shot from their site using Sue's photo.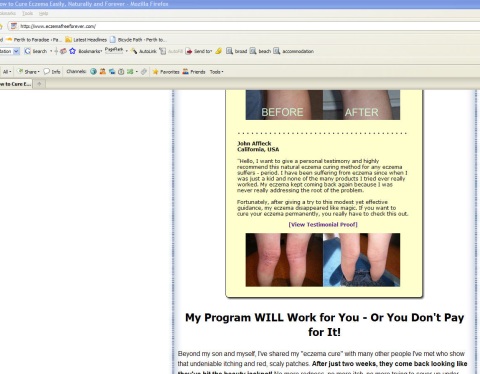 Be aware that there are many dodgy operators out there making all sorts of claims that their eczema products work and work well.
Be aware that some of these web sites steal photos and make up testimonials to 'prove' their products work.
All of the testimonials and photos on www.eczema.com.au are 100% genuine and real.
No Eczema Free Forever – We're NOT Convinced!
As www.eczemafreeforever.com asks "Still NOT Convinced?"
No, actually we're not because you stole the Before & After photo from our web site to prove your product works!!
Don't use the success of our products to make yours look like they work.
That's wrong, it's illegal and it makes me angry.
Regards
Mel
Web Site Manager
www.eczema.com.au
P.S:  Update 6 October 2009:
I've been in contact with the American Holistic Health Association and their President Suzan Walter told me:
"We can find no AHHA member with any relationship with this website, this person, or this company.
There are a number of websites that are using the AHHA logo illegally. This is another one."
I suspect that even "Rachel Anderson" is made up on the site.
P.P.S: Oooh, I'm in trouble now!  This just in from Eczemafreeforever.com after I asked them to remove the photo:
"Hi,

Thank you for your email. We will be filing complaints to www.bbb.org for both your wife's eczema website and tailored.com.au.

Its obvious that you are trying to frame us by having people send us testimonials with copied pictures so that you can use it to your advantage.

I'm sure that a nice prominent better business bureau complaint whenever someone search for your product will suit you (and improve your sales!) because we replied nicely and were willing to cooperate – its obvious that you planned to do this from the start.

Have a nice Day

Thank You
Rachel Anderson"
There really are some idiots out there!