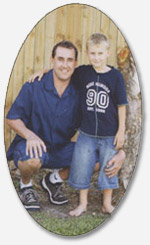 Geoff is the founder of Grahams Natural Alternatives, a natural range of products designed to treat the symptoms of Eczema and Psoriasis.
Geoff Graham was only 3 months old when it was reported that he had the worst case of Eczema in Australia.  He lived with the condition throughout his childhood, teen and adult years, and tried every remedy and treatment available.  It wasn't until Geoff's son Ryan was faced with the condition that Geoff decided a treatment had to be found.
Geoff spend many hours in his kitchen trialing and testing different recipes that helped relieve Ryans eczema.  It's been Geoff's persistence and hands on experience that has resulted in a widely recognised and effective treatment for eczema many years on.
Grahams Natural Alternatives have appeared on several national TV programs over the years as more and more sufferers find relief from his products.